March 27, with the theme of "technology-led, green travel" Yadi Crown Energy 2.0 series of new products will be held in Wuxi City, Jiangsu Province, Yadi Technology Group headquarters as scheduled.
At the launch, the Yadi Crown 2.0 series in the TTFAR motor, TTFAR energy recovery controller, TTFAR graphene 3 generation battery and other core components to bring about a breakthrough in technology innovation, to achieve a further improvement in comprehensive performance, but also foreshadowed the history of the electric vehicle industry once again ushered in a landmark breakthrough.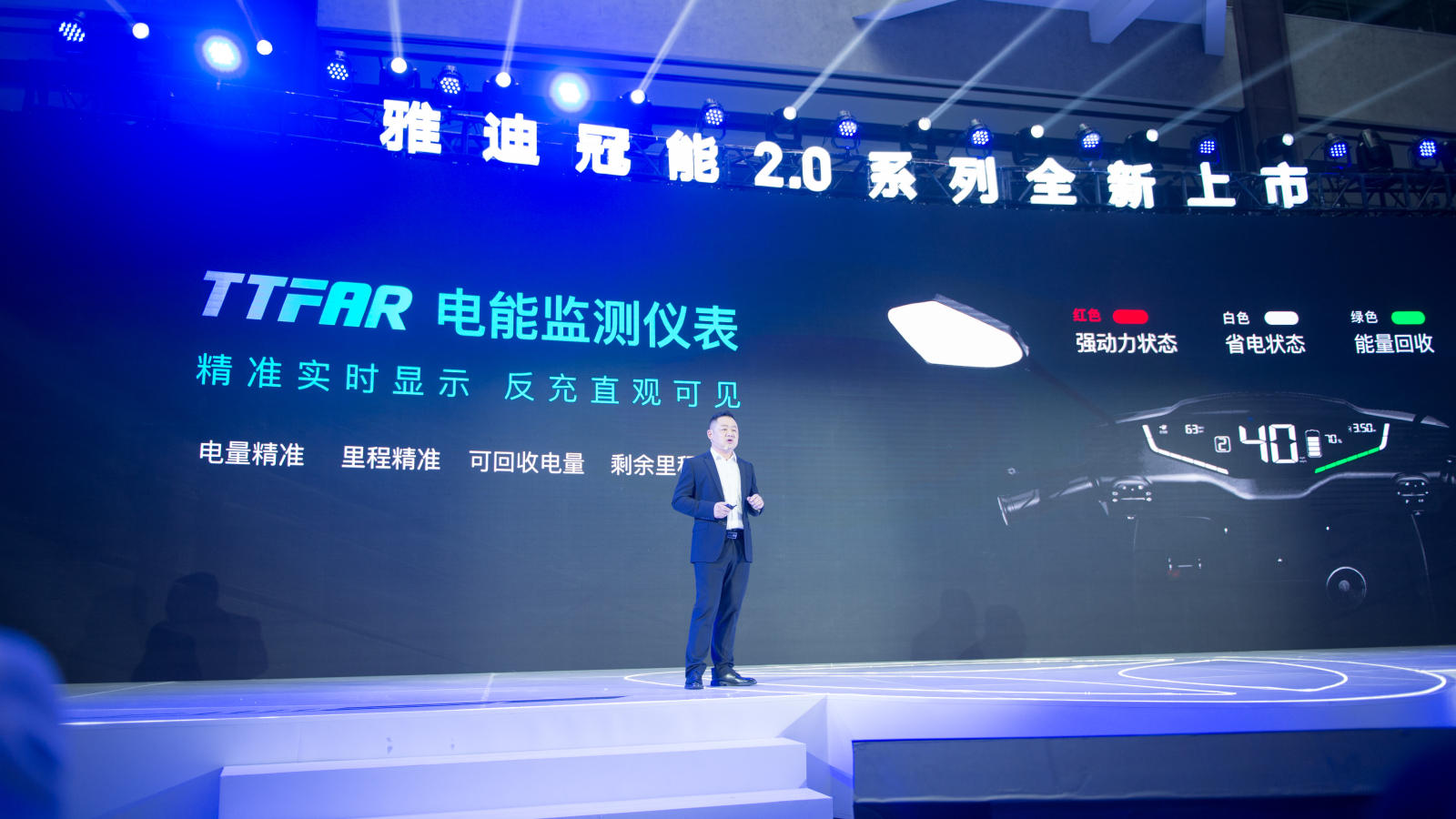 Yadi Technology Group Product Technology Research Institute Director Zhou Chaoyang introduced the crown energy 2.0 series
Technology is far, really far away
At the press conference, Yadi officially released the newly upgraded TTFAR Class 8 range increase system and the Yadi Crown Energy 2.0 series of products equipped with this system. According to Yadi official information, the Crown Energy 2.0 series isequipped with Yadi's self-developed "TTFAR 8-stage range increase system", includingTTFAR motor, TTFAR graphene 3 generation battery, TTFAR fast charge, TTFAR energy recovery controller, TTFAR energy monitoring instrument, TTFAR drop resistance waterproof cable, TTFAR low roll resistance tires and TTFAR low wind resistance body.
Among them, the upgraded TTFAR graphene 3 generation battery using a new super grid design, battery activity lead paste increased, making the battery capacity larger, lower attenuation rate, more durable, in addition, TTFAR graphene 3 generation battery give full play to the advantages of graphene technology, improve the conductivity of the battery active substances, can enable the battery to achieve fast charging, with the FASTFART charger, the fastest 3 hours full power.
With TTFAR energy recovery controller, software upgrades make cycling smoother, start-up, parking, and TTFAR energy monitoring instruments to achieve energy recovery visualization, unique energy ring through color switching visual display, so that electric vehicles long-lasting and efficient operation, really achieve more powerful, longer-lasting. In the official test, equipped with the TTFAR 8-stage range-extending system of the Yadi Crown 2.0 series models, than equipped with the same specifications of ordinary batteries of the electric vehicle range more than twice, to achieve the true meaning of "one charge, run twice more"!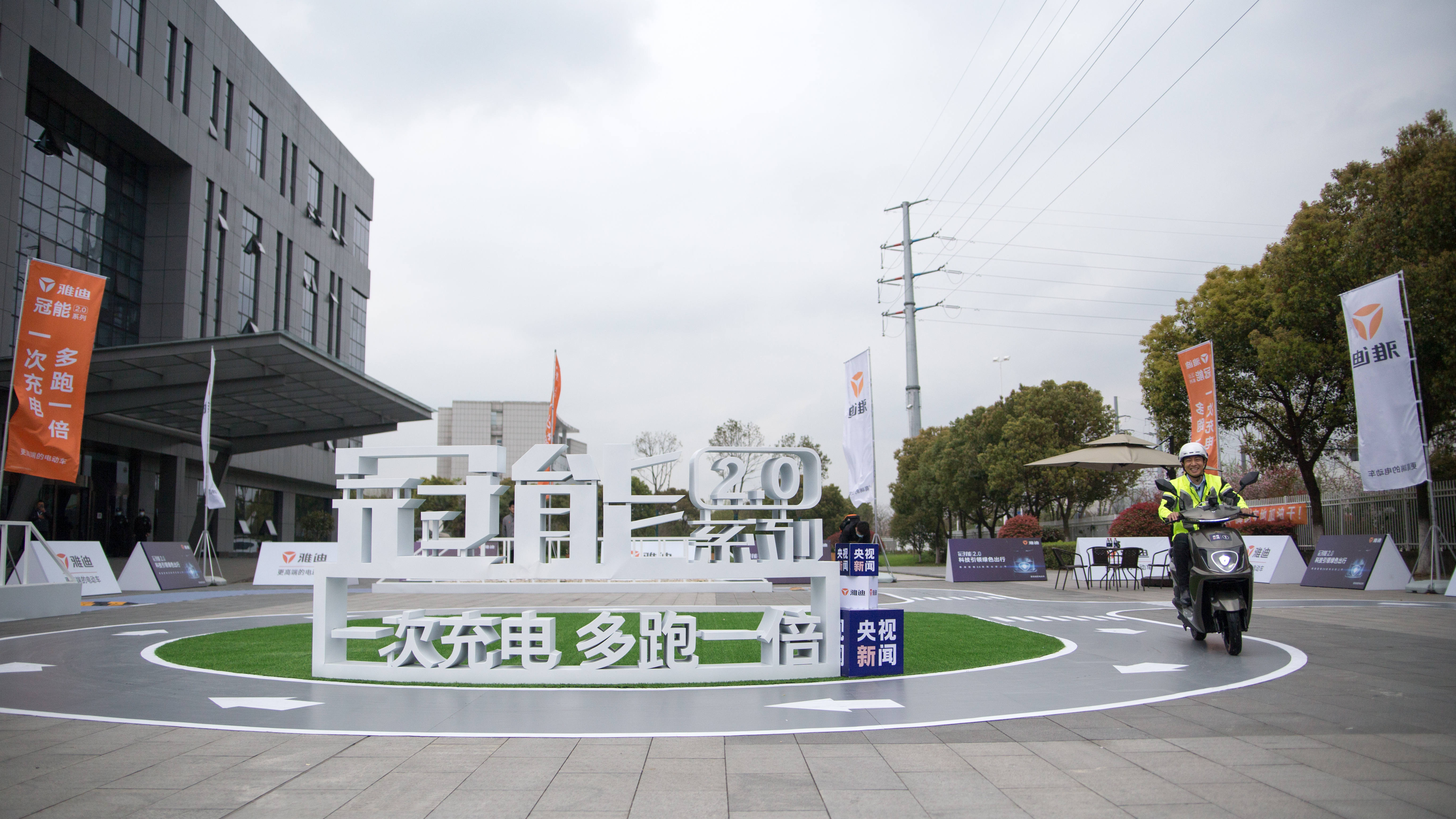 Chief CCTV host Sabine tries to ride Yadi products
Through continuous innovation and breakthrough, Yadi can be said to be a true integration of technology and art, so that Yadi electric vehicle products stand out, for the industry into the new power of technology and fashion, therefore, Yadi has also become CCTV's only certified electric vehicle industry leader.
Brand power, real power
Yadi Crown 2.0 series launch also attracted the attention of CCTV authoritative media. On the day of the launch, CCTV's famous host Sabine personally came to the scene to help, at the same time, CCTV news client, CCTV news micro-blog, shaking sound, fast hand and other CCTV new media platform also carried out a simultaneous live broadcast, a full-scale direct hit Yadi Crown 2.0 series of press conference scene.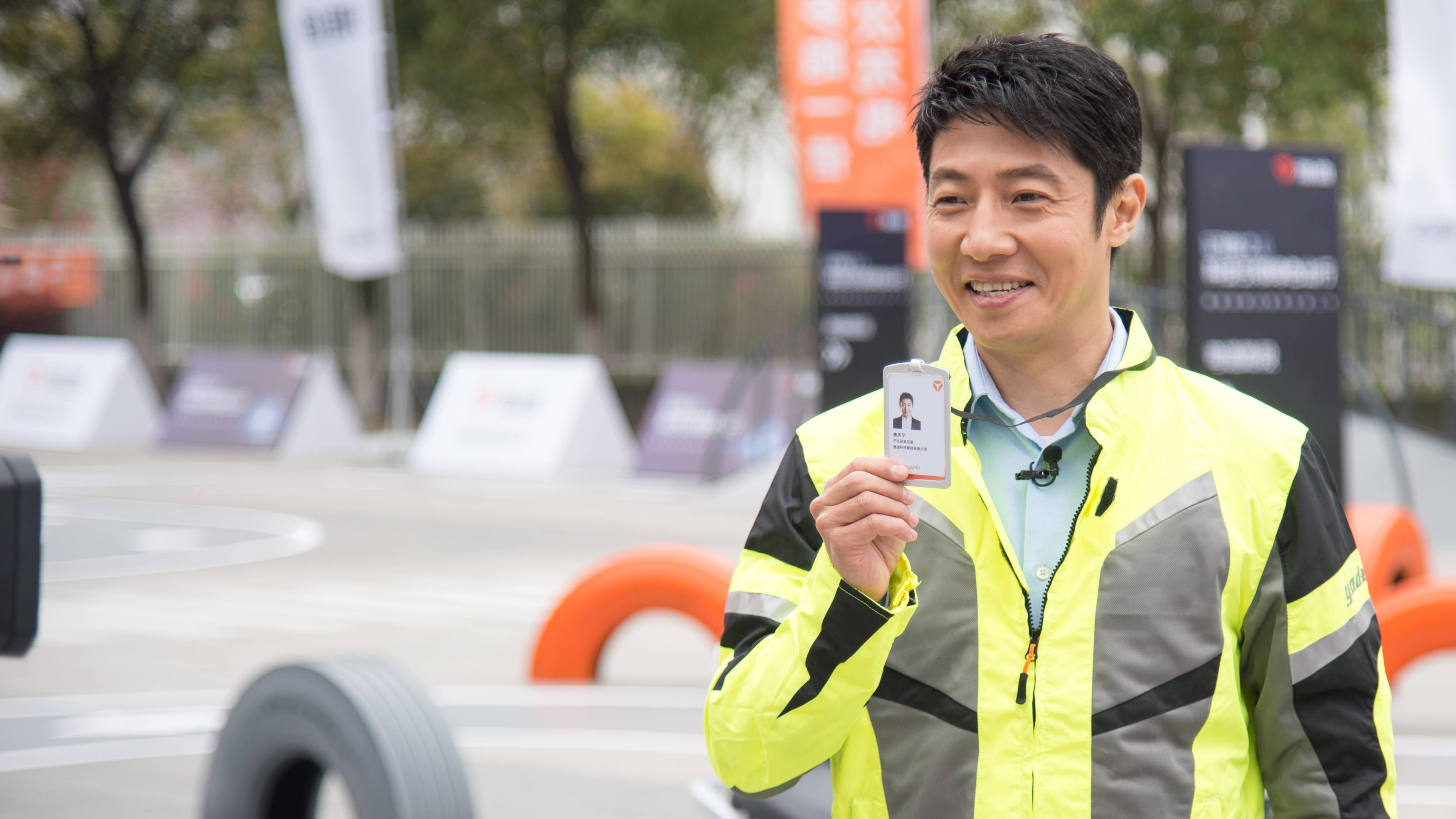 Chief CCTV host Sabine "On-the-job Yadi"
All along, CCTV has no precedent to help the electric vehicle industry launch, but this time in a deeply participatory manner, leading the audience to witness the Yadi Crown 2.0 launch, the lineup is unprecedentedly strong, enough to show CCTV's high degree of affirmation of Yadi.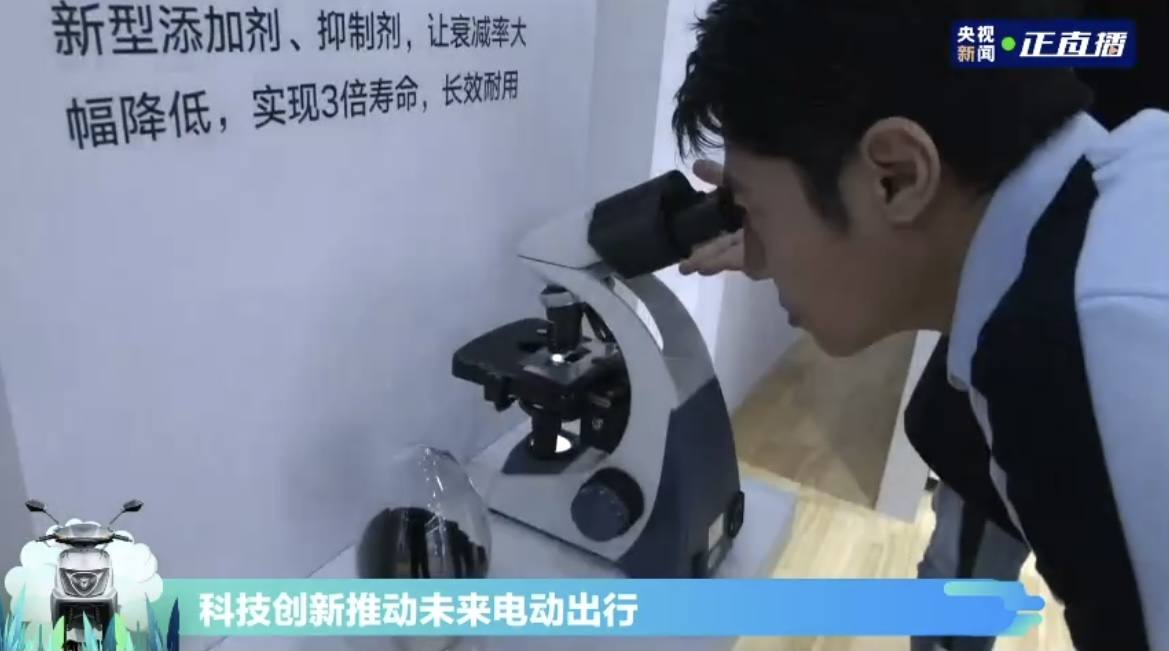 The head of CCTV, Sabine, got a close look at The Yadi graphene battery material
As a national ingenuity brand, Yadi has been named "China's first electric vehicle industry" for 10 consecutive years, for 8 consecutive years on the list of "China's top 100 light industry enterprises." With strong product strength and intimate service, Yadi has become the first brand in the history of the electric vehicle industry to break through the annual sales of more than 10 million units.
Domestic electric vehicle market demand to Yadi innovation and development of the soil, high-end, science and technology, green travel, has become Yadi brand label. As a leader in the electric car industry, while creating a more high-end green lifestyle for global electric vehicle consumers, Yadi is also using its strength to show the power of Chinese brands around the world.
Smart line, high-end line
Yadi Group, which has always adhered to independent research and development, has eight production bases in Wuxi, Tianjin, Zhejiang, Guangdong, Chongqing, Anhui, Vietnam, Xuzhou (preparation). Over the years of continuous hard work, in exchange for technological breakthrough innovation and industry-leading position.
At present, Yadi has 2 state-level enterprise laboratories and 5 major technology research and development centers, a total of 1097 patents, at the same time, Yadi is also strengthening the international export business development and international brand image building, after more than 20 years of unremitting efforts, Yadi electric vehicles have won the world's 83 consumers love and recognition.
Adhering to the "providing products and services that make consumers happy", Yadi has comprehensively remodeled its own value system, and constructed seven value systems, including brand image value, product appearance value, product use value, store image value, service value, marketing campaign value and big data value, to support the new pattern of enterprise development with its own value system and scientific and technological strength.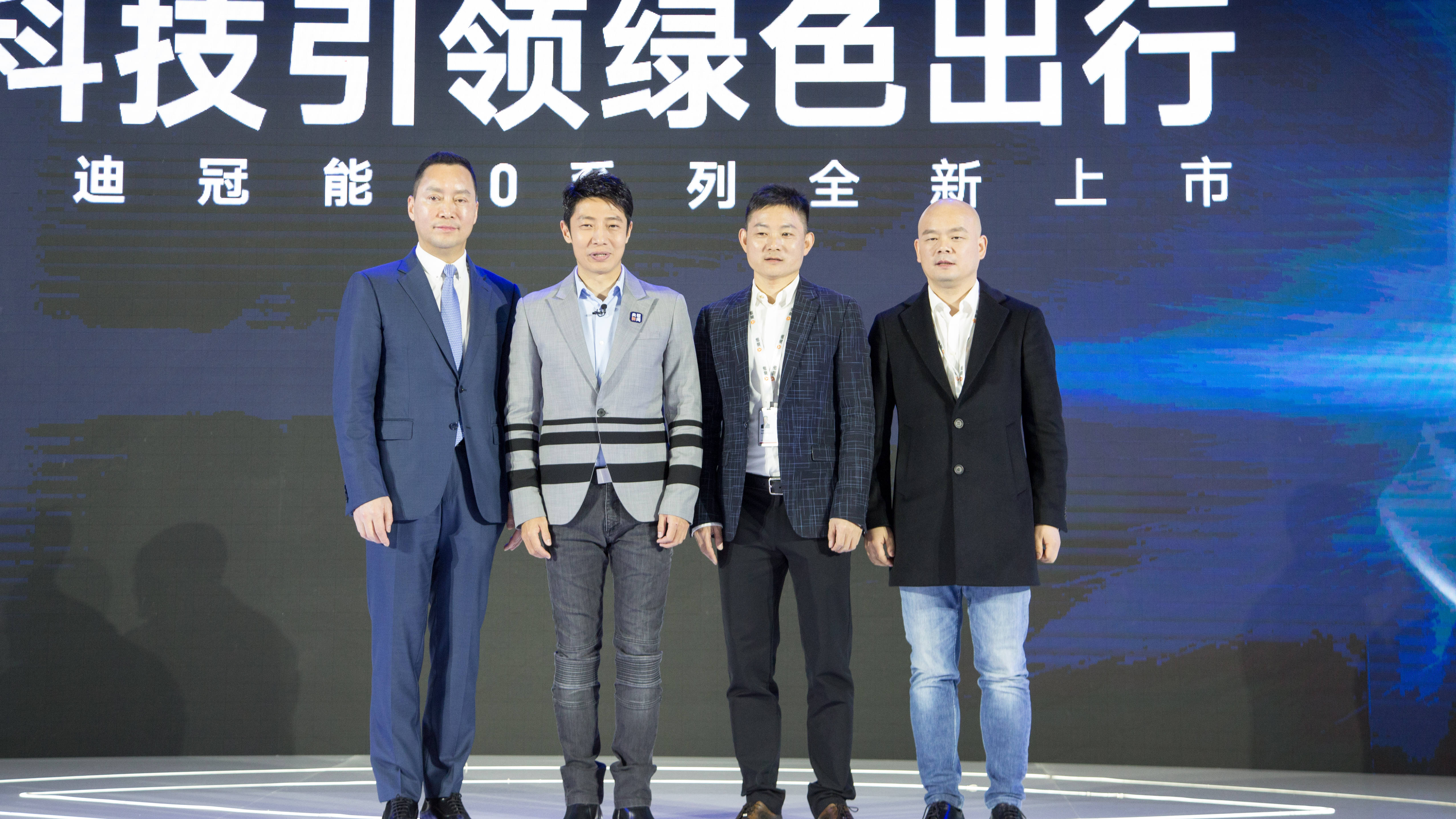 The head of the CCTV station, Sabine, posed for a photo with Yadi executives
The success of the Yadi Crown 2.0 series of product launch, once again subverted the electric vehicle industry's original power model and development path, but also let the public for intelligent travel, green travel concept has a new understanding. The future Yadi will not only lead China's electric vehicle industry to participate in global competition, but also continue to lead the global green travel new air, and thus create a higher-end green lifestyle for the global electric vehicle consumers.