After "repeatedly jumping" on the issue of car-building, Xiaomi's car-building was finally settled.
On March 30, Xiaomi Announced that it would set up a wholly-owned subsidiary to enter the smart electric vehicle market, with Lei Jun personally in charge. The initial investment is RMB10 billion and is expected to be US$10 billion over the next 10 years.
Lei Jun also announced the above information at the same day's press conference.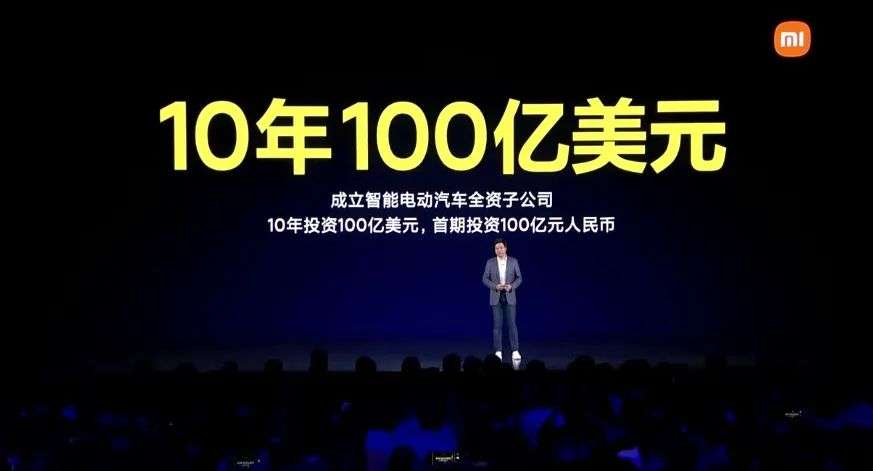 Earlier, Bloomberg reported that Xiaomi would outsource car assembly to contract manufacturers and that Xiaomi had no plans to select older carmakers. However, at the press conference, Xiaomi did not disclose whether the car is self-built or outsourced.
After months of assessing the potential of the electric car industry, Xiaomi is understood to have hired engineers to develop software embedded in the car.
During the two-day, nearly five-hour Xiaomi Spring Launch, Xiaomi's car-building project took place in the final half hour.
As for building cars, Lei Jun said Xiaomi "is not bad money, can afford to lose", his bottom gas comes from Xiaomi by the end of 2020 there is still 108 billion yuan in cash balance.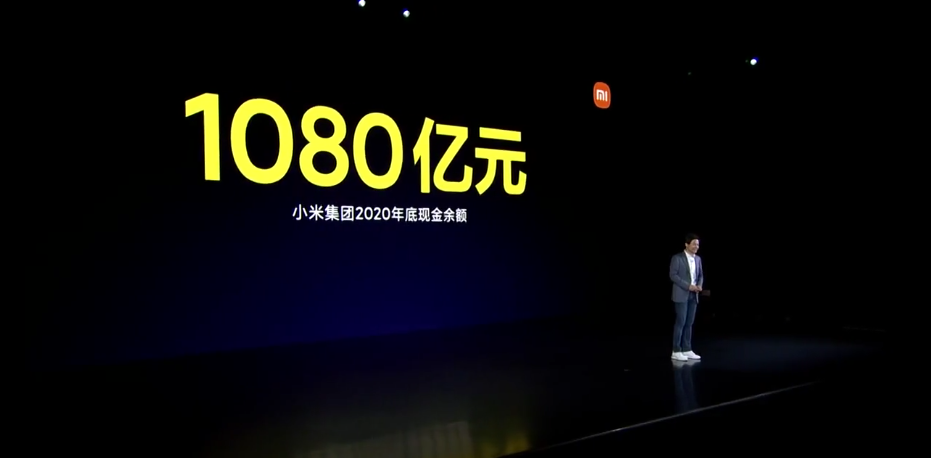 Lei Jun said Xiaomi will be the last big bet of his entrepreneurial career, this time he will bet on all the achievements and reputation of life, for Xiaomi car fighting.
As a mobile phone manufacturer, Xiaomi brand has occupied the minds of consumers, sitting on the purchasing power of rice flour, with online and offline integrated sales capacity.
As a new energy vehicle, Xiaomi has a long way to go, whether in automotive hardware or self-driving software.
Some people say that there are only two entrepreneurs in China who can do tv, mobile phones and cars at the same time: Jia Yueting and Lei Jun. Visible difficulty is high, but also only a very small number of people dare to "try by themself".
How long can Xiaomi "fever" for building a car?
1
"The last time you start a business in your life"
"This is going to be the last major start-up project of my life, and I'm willing to bet on all the achievements and reputations of my life and fight for Xiaomi."
Lei Jun said this, at one point choked, he not only touched the audience of the press conference, but also caused heated discussion on social media.
But building a car doesn't depend on shouting slogans. Lei Jun announced that Xiaomi built cars "10 years to invest 10 billion U.S. dollars", and is a whod-owned model of car construction.
That means Xiaomi's management has the power to mobilize $10 billion over 10 years into the smart electric car industry;
"We think it's only by pulling all these products out of the phone and the ecosystem chain that we can provide an omnipresent, intelligent experience for rice flour." Lei Jun explained Xiaomi's who-owned car, for which he also rejected investment offers from many investment institutions.
Mr Lei revealed that he was "very resistant" when Xiaomi's board recommended studying the future of electric cars. He worries, "We spent five years making cell phones, and now that the battle of cell phones is not over, will building a car be a distraction?" "
After some psychological struggle, on January 15 this year, Lei Jun led Xiaomi's team to conduct a rapid car research.
In 75 days, Xiaomi conducted 85 industry visits and in-depth exchanges with more than 200 automotive industry veterans. Four internal management discussions and even two formal board meetings were held. In the end, Xiaomi decided to build a car.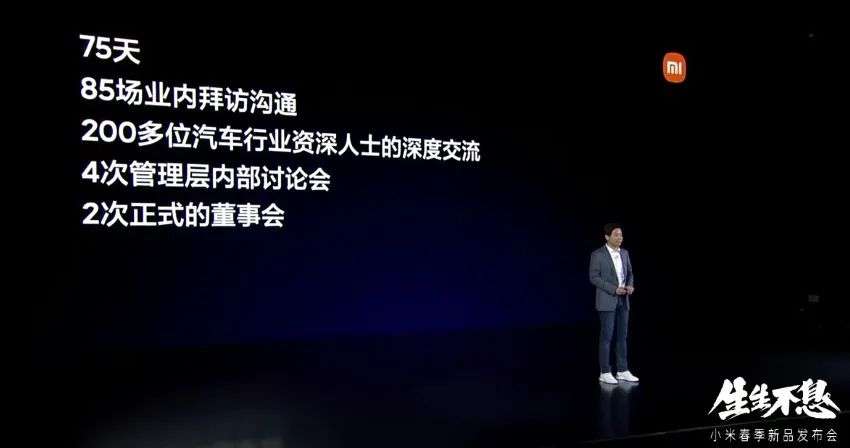 "I'm well aware of the risks in the auto industry, I'm investing tens of billions of dollars, and it's going to take three to five years to get results, " Mr Lei said. But Xiaomi is ready to sprint for 5-10 years.
Lei Jun also at the press conference, the "bottom of the family" of Xiaomi car: rich, some people, ecological.
By the end of 2020, Xiaomi's cash balance is 108 billion yuan;
Lei Jun believes that these are the important support of Xiaomi's car.
However, Xiaomi did not give an exact response to speculation about whether it would outsource car assembly to traditional car factories.
Tencent News "Front Line" reported that Xiaomi car construction by Lei Jun as CEO, but the specific implementation will be Xiaomi co-founder Wang Chuan, Xiaomi internal several small department heads have been included in the car-building team, including a number of managers of the artificial intelligence department, these people have previously reported to Wang Chuan, joined the car-building team will continue to report to Wangchuan.
2
It's been a long time to build a car
Lei Jun once called himself "extremely conservative and extremely dangerous". He also showed the same style in the car-making business.
Before announcing his own move, he had invested in building a smart car ecosystem; today he thought it was the right time to let go and fight for all his life's achievements and reputations.
As early as 2013, Lei Jun visited Tesla CEO Musk twice in the U.S. to show interest in Tesla and new energy vehicles.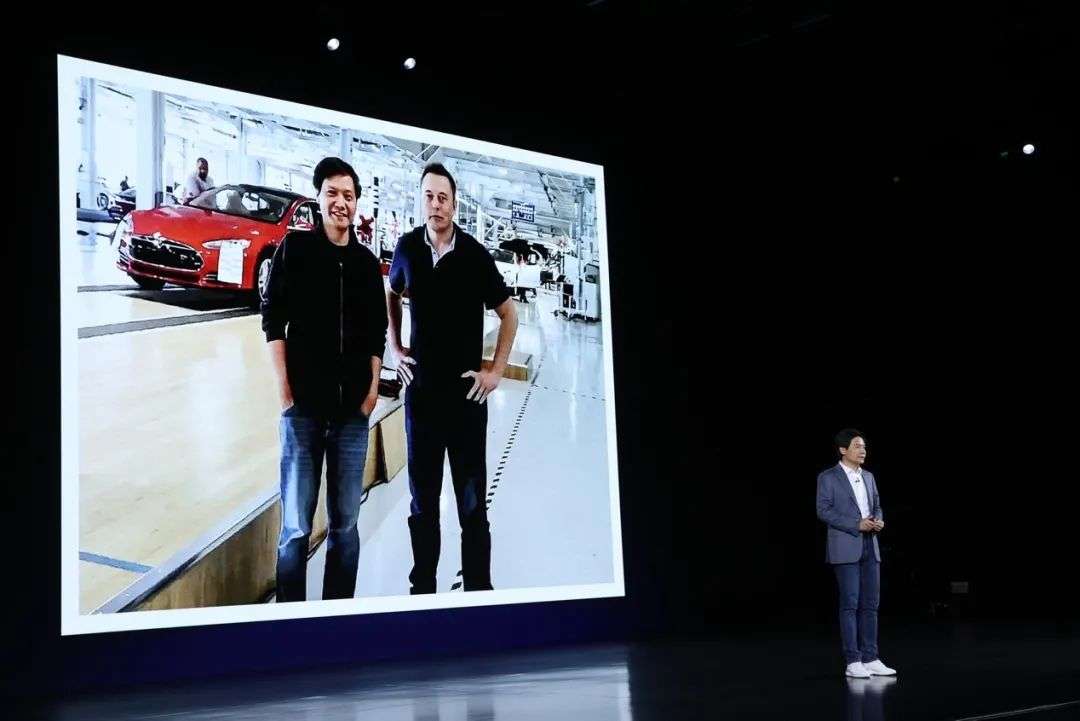 Since then, through the "Xiaomi system" of shun capital, Lei Jun has invested in running the new domestic car-building forces – including in 2014 to participate in the launch of Weilei Automobile, as well as in 2016 and 2019 consecutive investment in Xiaopeng Automobile.
At the end of February this year, Lei Jun also met with Li Bin, the founder of Weilei, to consult on the construction of cars, 36 Yan reported. Xiaomi's number two, Wang Chuan, has also visited the ideal car frequently over the past year.
In addition to investing in new car manufacturers, Xiaomi has also laid out the upper and lower reaches of the smart car industry chain. In 2014, Xiaomi invested in the map manufacturer Khalid. In April last year, Xiaomi strategically invested in Shanghai Pateo, a car networking company, which will work with the latter on software, hardware, voice multi-scene interaction and more.
Lei Jun revealed at the launch that in the past 7-8 years, Xiaomi has invested in nearly 10 auto-related companies.
In addition to the investment, since 2015, Xiaomi has also applied for patents on automotive fixed speed cruises, energy supplements, vehicle handling, navigation, assisted driving and driving safety.
As early as mid-2019, there are Xiaomi high-level to Lei Jun, the end of 2019 to the beginning of 2020 is Xiaomi into the construction of cars. But in the automobile manufacturing has no experience of Xiaomi, choose to cooperate with car companies, power on-board service system to test water.
In June 2019, Xiaomi and Mercedes-Benz reached a cooperation, the business is very mature virtual voice assistant XiaoAi "moved into" the car, so that Xiaoai students into the car human interaction system. Two months later, The head of Xiaomi MIUI revealed that he was considering developing an MIUI-based in-vehicle service system. From investing in smart cars to working with car companies to get on-line on-board services, Xiaomi's path to new cars is similar to Baidu's.
3
The next decade is in dire need of support
"If you want to live on the transcripts of the past, stick to today's results, in the highly competitive mobile phone market, (Xiaomi) is absolutely unable to hold on."
In Xiaomi's 10th anniversary public speech, Lei Jun clearly realized that Xiaomi to live in peace and security.
At the 2019 meeting, Lei Jun announced Xiaomi's core strategy for the next five years, the "Mobile Phones and AIoT" twin engines. In August 2020, Lei Jun upgraded this strategy to "AIoT × mobile phones".
Today, both businesses face more or less resistance. Among them, the smartphone business suffered a "mid-life crisis", AIoT is not yet "responsible."
In the mobile phone business, although Xiaomi became the only domestic mobile phone brand to grow in 2020, but this can not hide the decline in the smartphone industry growth trend.
Since reaching a high of 560 million in 2016, China's mobile phone shipments have been declining year by year, according to the China Institute of Information and Communication. In particular, mobile phone shipments in 2020 were 308 million, down nearly half from four years ago.
Reflected in Xiaomi's earnings report, Xiaomi's smartphone revenue for the full year 2020 was 152.2 billion yuan, below Bloomberg's forecast of 154.24 billion yuan.
In Xiaomi's valued AIoT business, AIoT platform, although the global expansion, its revenue growth is "in place."
Excluding smartphones and laptops, Xiaomi's AIoT platform has 325 million IoT devices connected by the end of 2020, up 38% year-on-year.
But in terms of revenue, Xiaomi IoT and consumer goods revenue of 67.4 billion, up 8.6% year-on-year. Revenue from the division was 62.1 billion yuan in 2019, up 41.7% year-on-year. In terms of growth, revenue growth in the AIoT business is declining.
In terms of AIoT's contribution to total revenue, it also slipped from 26.8 per cent in 2019 to 23.9 per cent in 2020.
Although Xiaomi is already in the top three of the world's smartphones, as the global smartphone growth slows and the AIoT business struggles to sustain revenue in the short term, Xiaomi is eager to find the next card beyond smartphones and AIoT for growth in the new decade.
At Xiaomi's 10th anniversary launch, Lei Jun laid out three strategies for Xiaomi's future development: re-starting a business, zeroing everything;
In the mobile phone industry low, the rise of the new energy sector in a drop of one liter, electric vehicles have become Xiaomi re-start the best target.
In addition to Xiaomi's internal search for change, the car once again reflects Lei Jun to do "the pig on the mouth of the wind", the concept of homeopathy.
New energy and smart cars are an opportunity for a very high level of certainty in the future, both in terms of policies and in terms of the trend of alternating between old and new energy sources around the world.
The Chinese market and Chinese companies will be important players in the opportunities of this era. HIS Market reports that the penetration rate of smart cars in the global automotive market will increase to 60% by 2025;
From the practice point of view, Tesla, Ulser and other smart electric vehicle brands sales rose, gross profit has turned positive, the ability to continue to improve, the market value of a big increase. As pioneers, they ran through the business model of smart electric cars.
This gave confidence to the those who came later. Apple, Huawei, ZTE, Baidu and other technology companies have been involved in building cars, setting off a second wave of car-building tide.
Internet technology companies can participate in the construction of cars, but also can not be separated from the rapidly familiar automotive industry chain. Since entering the Chinese market in 2018, Tesla has not only brought a "fishing effect" to new cars built in China, but also, to a certain extent, boosted the local smart car industry chain.
According to Tesla's global vice president Tao Lin, by the end of 2020, the domestic tesla parts localization rate has basically reached 100%, which also led to the maturity of the domestic automotive industry chain.
4
How long can Xiaomi "fever" for building a car?
Xiaomi's starting point is "to be the best mobile phone in the world, selling for half the price, so that everyone can afford it".
Re-entrepreneurial Lei Jun, still adhere to the "three iron law", that is, technology-based, cost-effective, do the coolest products.
As a result, many people expect Xiaomi to bring down the price of electric cars and truly become "the first electric car for young people". Rice flour is even more said, "As long as Xiaomi dare to build, we dare to buy."
However, while some people liken smart cars to "four wheels for smartphones", the amount of money required to build a real car is huge and involves the complexity of the industrial chain, far more difficult than building a mobile phone.
Burning money alone keeps many businesses out. Li Bin of Wei li has spoken out about building cars to burn money, saying start-ups need at least $20 billion in capital to prepare. Weilu and Tesla have also been nearly dumped because of lack of money.
The reason why cars burn money is partly to marketing, and part to technology research and development, and this is an ongoing process of burning money.
After the release of this year's new car-building results, Wei li, ideal and Xiaopeng all said that in 2021 to increase research and development investment, of which Wei li and ideal research and development investment will reach 5 billion yuan and 3 billion yuan, respectively.
In terms of capital investment, Lei Jun has used the full investment of 10 billion U.S. dollars to prove that Xiaomi "not bad money." So, in the case of abundant grain and grass, Xiaomi car what opportunities and worries?
An automotive industry analyst told All-Weather Technology that Internet technology companies have an advantage in brand marketing and operations and understand user needs better than traditional car companies.
Xiaomi is a very marketing-snerating company, through mobile phones and IoT ecology has occupied the consumer mind, the cultivation of rice flour is also more purchasing power. But the disadvantage of Internet companies is that they may lack experience in the manufacturing of cars. "
According to Tencent's Shenzhen Network, citing auto industry sources, Xiaomi's logic is similar to that of Apple and Huawei, the consumer electronics brands that have accumulated a large number of C-side customers.
"Mobile phone manufacturers also have the ability to integrate sales offline (capital, logistics, agents, retail has become very mature, even platform-based) these advantages are a long version of the comparison."
However, although Xiaomi can migrate the experience advantages of mobile phone manufacturing, but in the field of car-building is still layman.
"Unlike conventional fuel vehicles, the core competitive element of new energy pure electric vehicles has evolved into new energy drive and software capabilities," Wang Xianbin, a senior analyst at Gesser Automotive Research Institute, told All-Weather Technology. Therefore, the current intelligent electric vehicle is moving towards hardware electricization, software intelligent evolution. "
This makes two requirements for car manufacturers: first, hardware capabilities such as vehicle manufacturing and power batteries, and second, software capabilities such as autonomous driving and vehicle networking.
At this press conference, Xiaomi did not disclose whether the car is ready to build its own factory or by car companies, but the search for cooperation between car companies can obviously speed up the production of Xiaomi cars.
Take Baidu and Geely co-built cars, for example, Baidu's advantage lies in self-driving and car networking technology, so in the division of labor also pay more attention to complement each other, focus on the software field.
In general, it is easier to complement hardware capabilities by working with car companies, but software competitiveness requires a long time of hard work.
At the moment, both Tesla and The New Force are building cars, and they're all about self-driving. Baidu car is favored by the market, but also its self-driving and car networking is good.
But compared with the car-building peers, Xiaomi in the field of self-driving, automotive intelligence has a long way to go.
Analysts point out that software capabilities such as autonomous driving will form the core competitiveness of new vehicles, and that software will also bring new business models and valuation imaginations to them.
Tesla is already confirming that judgment. Its Self-Driving Software Services (FSDs) are now cashed in as sales increase. Musk expects Tesla's FSD software revenue to grow from $200 million to $1 billion by 2021.
In addition to the hidden worries in the car-building business, there are also brokerages on Xiaomi's participation in the car-building valuation model.
Since the market tends to value Internet companies higher than hardware companies, Xiaomi has been trying to get rid of the "hardware company" label, trying to use the image of "Internet technology companies" to walk the capital market, to obtain better valuations.
Personally build a car, not only will Xiaomi "heavy", "hard", and therefore bring risks.
"Making cars is much more complex and has a longer supply chain than making smartphones, but Xiaomi doesn't seem to have built one yet, " Citi said in a research note. Moreover, building a car is a heavy asset business that will consume a lot of resources and create a long-term financial burden on the company, which may have an impact on the profitability of the current company. "
Citi also suggested that Xiaomi could take the IoT approach and enter the automotive industry by working with affiliates to sell ecosystems. It thinks this may be the only way Xiaomi can get a piece of the car industry.
The news that Xiaomi officials announced the construction of cars made some people in the market boil, they are optimistic about Xiaomi's share price, and some people even regret buying less;
What exactly does building a car bring to Xiaomi? Capital markets will take the lead today in share price colors.